The Essential Oils Industry – What you Need to know!
Although the popularity of essential oils is rising, many of the companies selling them have come under fire.
The essential oils segment can be a very challenging space for consumers to navigate in large part due to prevailing practices by the market leaders.
The FDA sent warning letters to several companies citing them for making unwarranted and unsubstantiated product claims.
In addition, critics question the enormous premiums these companies charge for their oils, and consumers are left wondering how to make sense out of the differing oil quality standards claimed by these companies.
Our management team has been closely watching these trends.
Do not be misled by the exorbitantly high prices that other companies charge for their oils. Just because they're charging an outrageous price, doesn't mean that their oils are of superior quality.
Leveraging three decades of experience developing natural health and wellness products, our business has introduced a new line of premium essential oils. Our new brand, of Essential Oils, consists of 22 single oils, five exclusive blends and two carrier oils—fractionated coconut and sweet almond.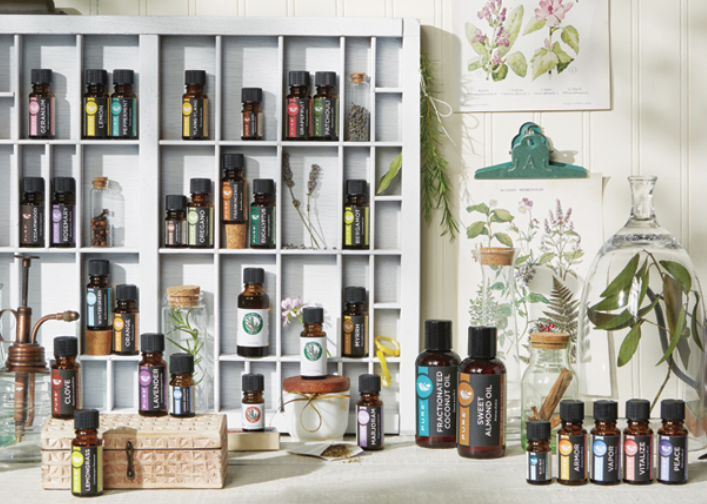 Our customers will equally benefit from pricing that is up to 50 percent below market leaders.
Our Essential Oils product array offers these single essential oils:
• Bergamot
• Cedarwood
• Cinnamon Bark
• Clove
• Eucalyptus
• Frankincense
• Geranium
• Grapefruit
• Jasmine Absolute
• Lavender
• Lemon
• Lemongrass
• Marjoram
• Myrrh
• Orange
• Oregano
• Patchouli
• Peppermint
• Wintergreen
• Ylang ylang
We are bringing superior quality essential oils to the market and offering a better value than all of the market leaders.
This translates into each bottle being defined by complete purity, uncompromising quality and unmistakable aromatic excellence.
Do not think that because we don't overcharge for our oils they are of inferior quality. We operate differently than our competitors. We are motivated by different values.
We use only 100 percent pure, natural, essential oils that are harvested and distilled following the highest quality standards in the industry. We strictly follow the essential oil specifications established by the International Organization for Standardization (ISO), an independent, non-government agency in Geneva, Switzerland created in 1947.
We source essential oils in partnership with farmers around the world who have a reputation for ethical, sustainable growing practices. The essential oils are extracted directly from the botanical source and extensively tested using state-of-the-art technology to meet stringent quality specifications.
The oils are evaluated for purity and contaminants like pesticides, herbicides and heavy metals. To do this, we use gas chromatography to evaluate all the separate constituents in the oil and measure their levels and purity. It also relies on mass spectometry, which provides a chemical fingerprint of the oil. Every oil has a specification that shows which components, and how much of each, is allowed.
Additional tests are performed before the oils are certified to contain absolutely no impurities, synthetics or fillers.
I hope you found this helpful and if you have any questions, feel free to contact me any time!